Last updated: May. 29, 2021

There are 3 ways to take money out of a corporation:
Through a shareholder loan (must be repaid)
Through dividends
By paying yourself a salary
As a business owner/manager, you can pay yourself a salary, dividends, or do a mix of both.
The method you use to pay yourself personally from your corporation has an impact on many different things – and not just your personal income tax owing. While dividends likely create the lowest personal tax liability, they don't allow you to create contribution room in your RRSP, build up CPP or claim WCB if something happens. The form of your personal compensation can affect what you receive from government programs and credits as well as your ability to qualify for loans from lending institutions.
Let's look at the differences below, and what each option could mean for you when deciding how to structure your compensation.
Related: Do shareholder loans count as taxable income?
Featured Resource: Ultimate Guide to Incorporated Small Business in Canada
Should I pay myself a business salary?
If you decide to pay yourself a salary, you'll need to register a payroll account with the Canada Revenue Agency (CRA).
Each time you pay yourself, you'll need to withhold and remit income taxes to the CRA.
You're also required to make mandatory payments to the Canada Pension Plan (CPP) on your income.
If you're a small business owner and your net income is more than $3,500, you must pay double the CPP than if you were an employee.
Since your business salary is counted as personal income, you also qualify for income tax credits, which include child care and medical expenses.
Paying yourself a salary would be a good option if you rely on mandatory retirement savings.
Your RRSP deduction room is also built using your business salary.
Click here for a comparison of TFSA vs. RRSP.
Should I pay myself dividends?
Dividends are paid to shareholders of your corporation.
Dividends are considered investment income instead of personal income.
You might pay slightly less tax on dividends than on a salary, since you receive a dividend tax credit that you can help lower your overall tax owing.
When you want to prepare dividends for your shareholders, you move the cash from your corporate account to the shareholder's personal account.
You'll have to prepare and file T5s to the CRA for anyone who receives dividends.
You won't need to register for payroll and remit source deductions if you're the sole owner of your corporation.
Paying yourself dividends could be right for you if you don't want forced CPP contributions.
Keep in mind dividends don't build RRSP contribution room, so you'll want to have your own retirement plan in place.
So how should I pay myself as a business owner?
It depends on your individual business and family situation.
Dividends are a more flexible payment option and you don't have to pay into CPP so you'll reduce your costs that way.
However, you'll need to be careful about contributing to your own retirement savings.
And you won't be creating contribution room in your RRSP by issuing yourself dividends.
Also, dividends aren't accepted as salary on loan applications if you're applying for a mortgage or other lines of non-business credit.
There are many other factors like other income sources that can impact whether you should be paying yourself a salary or dividends. Speak to a tax professional to find out which option is right for you.
Free Guide: Ultimate Guide to Incorporated Small Business in Canada
Many incorporated business owners feel intimidated by the demands of tax season and the corporate filing requirements of the Canada Revenue Agency (CRA). This is completely natural.
While there are numerous benefits to incorporation, it also comes with complex obligations. The complexity and administrative burden of these requirements leave many businesses struggling to keep up.
That's why we've created "The Ultimate Guide to Incorporated Small Business in Canada".  Not only will it help you get organized for tax season, but it will help you make sense of your obligations under a corporate structure and to take advantage of the benefits!
Download your free guide today.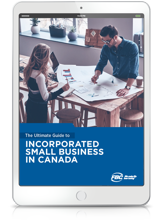 Need more information?
With more than 65 years of Canadian tax experience, we offer unlimited corporate tax preparation help, support and tax advice for one flat fee. Our tax experts will run the numbers to create a custom T2 corporate tax return that helps minimize headaches and maximize your tax savings.
Leave your unique tax situation to us. We'll get you every dollar you deserve.