accounting and tax support - farm and agribusiness
Weather more than just the weather
Mother Nature is unpredictable, but your farm or agribusiness doesn't have to be. We help farmers balance their books, pay their hands, and save money at tax time.
Plan a strong legacy for the kids.
Farming takes patience - so does farm accounting.
With over 70 years of experience, we know the best way to mitigate risk, save money,
and cultivate a better future for you and your family.
Know exactly where your money goes, with our help.
Your people paid the right way,
at the right time.
We won't let you
overpay the CRA again.
Year-End Tax Planning Strategies for Your Farm
Many farmers and agricultural producers wait until spring to start thinking about their taxes, but waiting could cost them thousands.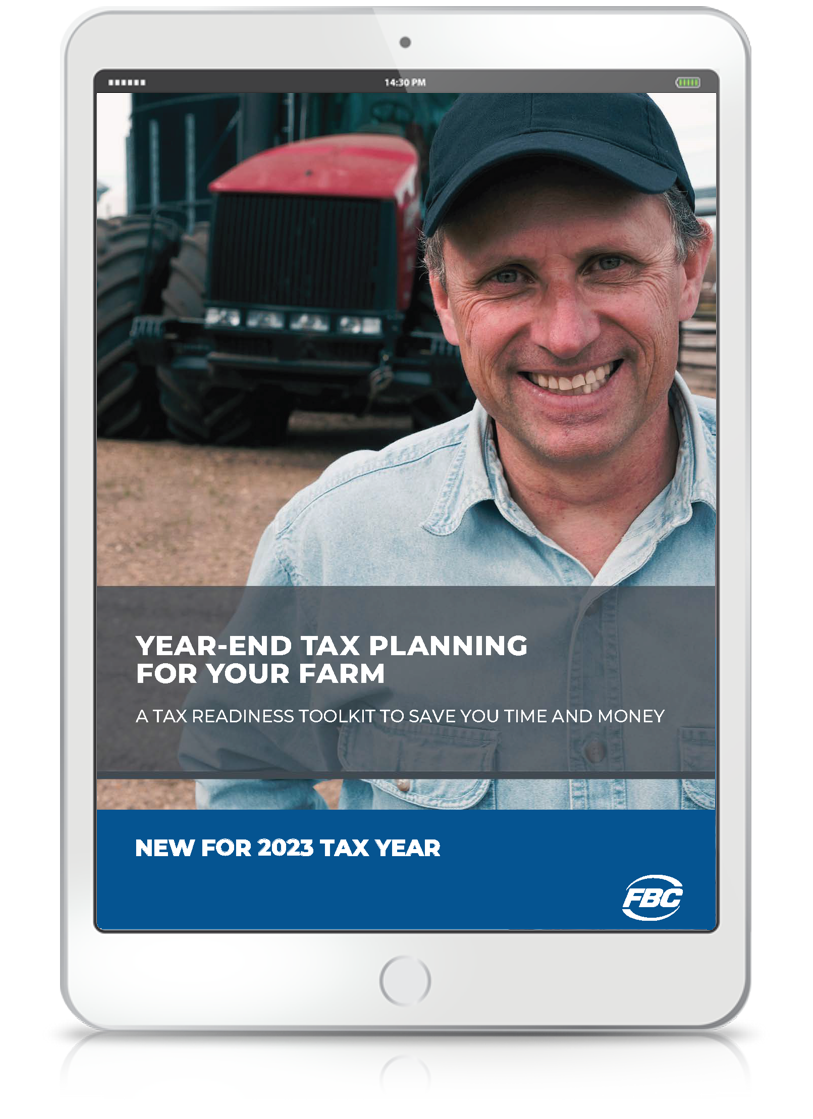 "FBC helped file my farm risk management application - we received a payment of $221,000.
We're reassured by the fact that FBC will help our family through anything that comes."
- Garry and Diana C. (Alberta) FBC Members Since 1979
We can help you plan a risk mitigation strategy that will outlast one bad season - just like Garry and Diana.
We make farm accounting make sense
Whether it's a junk drawer in your shop or a cab full of receipts, we will get you organized and save you money.
Use the best method of farm accounting to maximize your profits
Improve your cash flow so you can finance equipment
Software that lets you scan and upload receipts right at your time of purchase

We run loops around
the loopholes
With over 70 years of farm and agribusiness tax experience, you'll rest easy knowing your returns are accurate, timely, and save you money.
Tax strategy to maximize credits specific to agriculture
Help applying for most government risk management programs (Growing Forward, AgriStability, etc.)
Review old returns to see if we can get you some more money

You have enough chores - cross payroll off your list
Whether it's seasonal pickers or extra hands at harvest, they work hard for you. Make sure they get their due.
Accurate payments on time, every time
Deductions are paid and remitted to the right place, the first time
Sign-up for employee direct deposit
We Know Farming And Agribusiness
You work hard for your money.
We help you keep it.
Whether you want to pay less tax, increase your cash flow, or save
payroll headaches, we can handle that for you. Any time.
"It's stress-free for us in our farming business."
- Leslie Z. (Ontario) FBC Member Since 2012