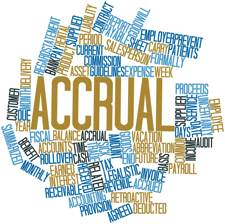 In a previous blog post, we outlined some of the advantages of the accrual accounting system for your business. Today, we'd like to give you some tips to make the transition to accrual accounting easy and successful.
Set Up Chart of Accounts
One of the first steps in making the move to accrual accounting is setting up a chart of accounts.
Chart of Accounts is a fancy way of referring to the list of accounts that are relevant to your business:
Cash
Accounts receivable
Accounts payable
Sales revenue
Expense accounts
These accounts are rolled up to different types:
Income
Expenses
Assets
Liability
Equity
This is not rocket science. But, just in case you find it a tad intimidating, fear not.
All respectable computer software accounting systems, by default, provide you a preset chart of accounts. Or, your accountant or bookkeeper can set this up for you.
Track Receivables and Payables
One feature of accrual accounting is that you record income and expenses when a sale or purchase is made, even if the money hasn't yet changed hands.
To support this, you'll need to track your accounts receivable and accounts payable.
Accounts receivable refers to the money that customers still owe you for products they've purchased.
Accounts payable refers to the money that you owe vendors for supplies that you've acquired.
Again, with the magic of technology, accounting software makes it easy for you to automatically track this information.
Accounting Software
Speaking of software, an important decision in this transition is whether to take care of your own bookkeeping or to outsource it to a bookkeeper or accountant.
If you choose to go it on your own, it's important to find software that is truly double-entry bookkeeping. One good choice is Kashoo Online Accounting.
For information on other options, check out these online accounting software reviews.
Full Service Bookkeeping
If using accounting software is not your cup of tea, then consider hiring a bookkeeper or accountant.
Here's some quick advice for hiring the right professional.
FBC has a variety of bookkeeping and accounting services to meet your specific needs. Please contact us to find out more.
CRA Consent
One final note: before you make the switch from the cash method to the accrual method, you will need to formally request a reporting change from CRA. Check out the T4003 Farming Income publication on the CRA site.