online payroll support - sole proprietorship - corporation - farm - small business
Managed payroll support that saves you time and money
Paying your people the right way, at the right time is critical. It's also a chore. We help farm and small business owners manage payroll so they can focus on bigger things, like their own success.
OVER 65 YEARS OF HELPING FARM AND SMALL BUSINESS OWNERS SUCCEED
How we take care of you and your business
You can't afford to waste time guessing at payroll deductions or learning payroll software. Our payroll experts will manage your payroll and reduce your business risk by making sure you stay compliant.  And the process? It's as easy as FBC.
Your Payroll Specialist reaches out to learn about your business and how to best meet your needs.
We set your employees up and ensure all deductions are calculated and remitted properly. You only track employee working hours.
From onboarding and exiting employees, to creating T4s – our payroll support is year-round and unlimited.

Ready to take back control of your time and money?
Mobile Payroll Support Powered by People
We make payroll painless and affordable
You didn't become your own boss because you dreamed of processing payroll.
So why burn valuable hours trying to remit the right deductions to the right place?
From inputting new employees to preparing T4s – we can handle payroll so you
can focus your energy on something else.
What's included with
FBC Payroll Service?
When you sign up for FBC Payroll, you will be assigned a dedicated Payroll Specialist. They will provide end-to-end payroll support so you'll never stress about compliance again.
Dedicated payroll specialist who knows your industry

Personalized support for all filings

Accurate calculations and remittance

Year-end T4's and Records of Employment (ROE's)

Electronic CRA filing + record keeping

Direct deposit payments to your employees

24-7 access to your online portal

Simple timesheet for your employees to track time
Payroll Frequently Asked Questions
3 Ways DIY Payroll is Putting Your Business at Risk
As a small business owner, you know that when the business day ends, your paperwork shift begins - and that includes payroll.
You may view payroll as just another thankless task, but did you know that incorrect payroll deductions can risk the financial health of your business?
Learn how a managed payroll solution with direct deposit can:
Save you from a huge tax bill
Protect you in case of audit
... download the free guide today!
Don't let DIY payroll put your business at risk. Let us help you take back control of your time and money.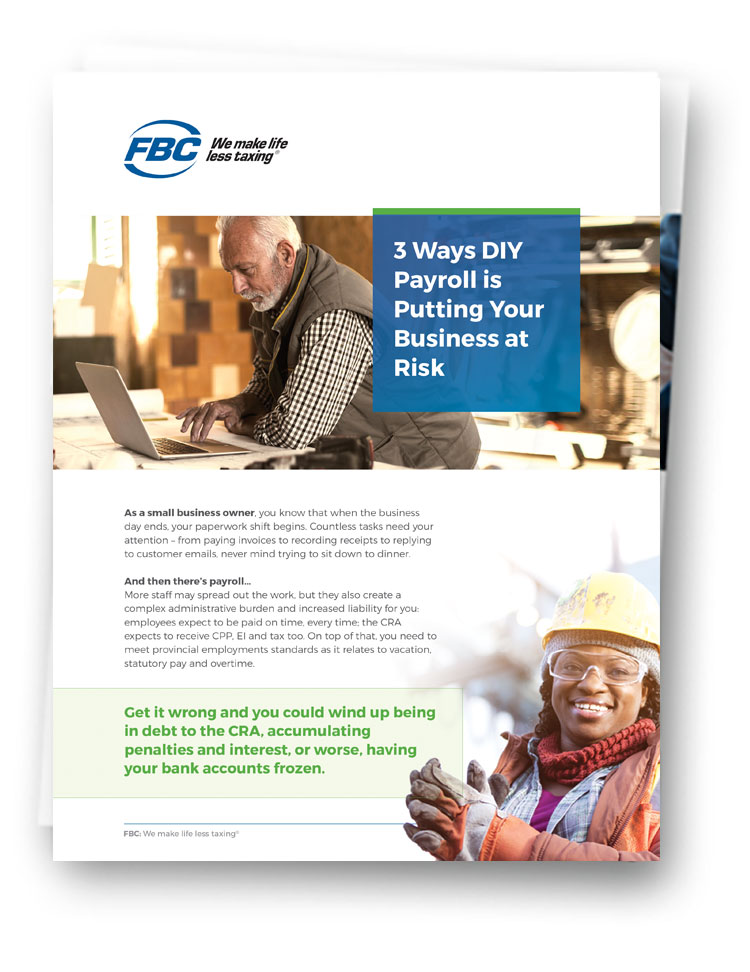 Payroll Support That Gives You Peace Of Mind
Simple, straight-forward pricing for payroll
When you choose FBC Payroll, your support will be personalized, unlimited and ongoing. Start now by creating your personal bookkeeping estimate.
Monthly Estimate
Monthly Estimate

Total

:

0
---
"FINALLY, someone is
working for me."
- Ron T. (Ontario) FBC Member Since 2013