Last updated: May. 29, 2021

Keeping a minute book is a legal requirement for all Canadian incorporated businesses.
It is used to fulfill the requirements of the Canada Business Corporations Act (CBCA) by documenting the corporation's activities. Minute books can be subject to government review to ensure your business is in compliance.
What is a minute book?
A minute book is a collection of corporate (and legal) documents that track an incorporated company's activities.
It keeps tracks of important corporate documents and company decisions such as dividend payouts, issuance of shares, loans and mortgages, shareholder agreements, major financial transactions, and payment of bonuses to officers and directors.
What goes in a minute book?
Generally, minute books include:
Articles of Incorporation
Board of Directors register
Officers register
By-laws and their amendments
Resolutions and annual shareholder meeting minutes
Share certificates and share transfer registers
Changes in share structure (including number of shares)
Directors, Officers and Shareholder registers
Notices that have been filed including:

Change of registered office address
Changes regarding directors

Shareholder agreements
Details of the corporation's quarterly and annual financial statements
Dividends dispersed to owners
Management fees or bonuses
Filings periods
Why do minute books matter?
Here is a list of reasons why it's important to maintain your minute books:
It is proof that you have complied with all mandatory government filings, including your annual return.
You could be fined by the CRA as part of an audit.
You will be unable to open a bank account for your incorporated business and banks may refuse to issue loans.
Any potential future sale or transfer of your business or its assets could be in jeopardy or face lengthy and expensive legal delays.
You may be exposed to higher taxes, tax penalties and fines on the shareholder dividends your corporation has paid out. Failing to properly record them could have the CRA treat those dividends as income which is subject to a higher tax rate. Your minute book effectively creates a paper trail of payments made out of the corporation.
Prevent disputes over the issuance of shares, dividends and shareholder loans.
When a minute book might be requested
Your corporation's minute book can be requested by government agencies, lawyers and accountants for the following reasons:
Your business is being audited by the Canada Revenue Agency
A tax specialist wants to provide tax advice or corporate financial planning
You are transferring ownership of your company or its assets
Your corporation is looking to obtain loans or financing or investors
A shareholder wants to sell shares
You are selling the company or forming a new corporation
You need to amend the articles of incorporation
Real estate transactions require proof of ownership
Benefits of keeping a minute book
Keeping your minute book up-to-date allows you to store of all your important corporate records in one location. You will easily be able to provide information to shareholders, financial institutions, or potential buyers and avoid delays or potential legal costs.
Free Download: The Ultimate Guide to Incorporated Small Business in Canada
Many incorporated business owners feel intimidated by the demands of tax season and the corporate filing requirements of the Canada Revenue Agency (CRA). This is completely natural.
While there are numerous benefits to incorporation, it also comes with complex obligations. The complexity and administrative burden of these requirements leave many businesses struggling to keep up.
That's why we've created "The Ultimate Guide to Incorporated Small Business in Canada".  Not only will it help you get organized for tax season, but it will help you make sense of your obligations under a corporate structure and to take advantage of the benefits!
Download your free guide today.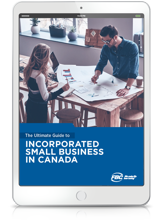 Need help with corporate filing obligations?
For more than 65 years, we have worked with tens of thousands of farm and small business owners across Canada. We optimize their tax returns, maximize their tax savings and support their back office needs with bookkeeping and payroll. Our legal services including minute book filing and annual returns.
To find out more about how we can support your business, take 15 minutes to connect with us so we can get to know each other. Request a consultation here.