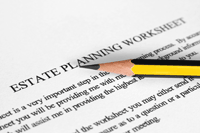 Earlier this week, we mentioned a news article that highlighted recent increases in the values of farmland.
That article discussed the possibility of accessing the equity you may have in your home or farm property to reinvest in the business.
Along with the increased land values, Canadian farmers will be faced with an increased tax bill when it comes to selling the farm or settling an estate.
Upon death, short of selling the farm, providing liquidity for estate equalization becomes a major problem for many farmers.
This is particularly true when there are children not involved in the day to day operations of the farm.
One of the most cost effective ways of providing liquidity is to purchase life insurance on the owner(s) of the farm.
While there are other methods, insurance is the only vehicle that provides an instant tax-free lump sum cash pay-out that allows for the fair and equitable distribution of assets to heirs.
Contact FBC Financial & Estate Planning for more information.