accounting and tax support - trades and contractors
Because there's always that one odd job...
And how you account for it could mean the difference between paying your mortgage or losing your shirt. We help trades and contractors balance their books, pay their crews and save money at tax time.
Spend your time doing what you do best
Accounting isn't complex, but the tax code is. With over 70 years of experience, we have
the inside scoop on the best tax-saving strategies for your business.
Know exactly where your money goes. With our help.
Your people paid the right way,
at the right time.
We will never let you
overpay the CRA again.
Tax Preparation Toolkit for Contractors and Trades
Don't let CRA interest charges and penalties eat away at your profits.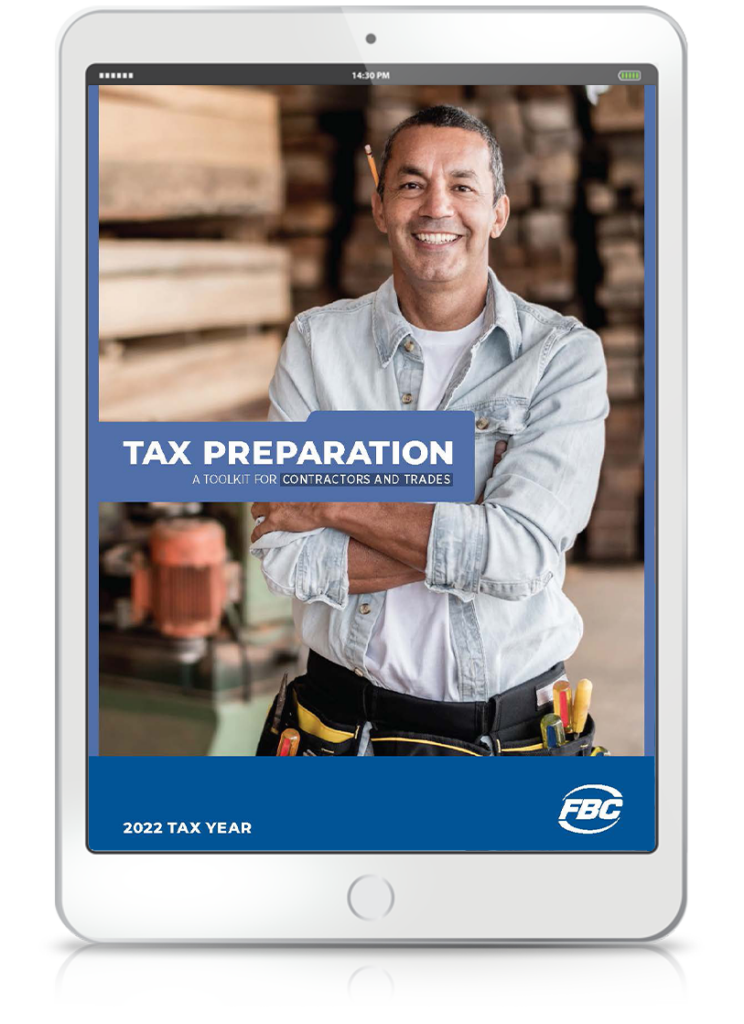 "I consider FBC to be a 'partner' in my business, and can't say enough about how great they have been over the past years. They always have time for me, and give me excellent advice and information. They meet with me when it is convenient for me, usually evenings, as I work during the day. They have been fantastic, and I encourage other small business owners to use their services."
- Jamie M. (Nova Scotia) FBC Member Since 2015
We're happy to give Jamie sound business advice at a time that works for him. We'd be happy to do the same for you.
When it comes to your money, a guestimate isn't good enough
Whether it's the junk drawer in your shop or a shoebox of receipts, we will get you organized – and keep you that way.
Software that lets you scan and upload receipts right at your time of purchase
Know your financials minute-by-minute or month-over-month
Make sure you are protected from the CRA

Don't just be a boss.
Be THE boss.
Your crew works hard for you. Make sure they get their due.
Accurate payment on time, every time
Deductions are paid and remitted to the right place
Sign up for employee direct deposit

We run loops around the loopholes
With FBC tax filings, you'll rest easy knowing that your returns are accurate, timely and save you money.
Tax strategy that knows how to minimize taxes and maximize credits
Never talk directly to the CRA again
It's so easy to fall behind. We've seen it all and can get you caught up.
We Know The Construction Industry
You work hard for your money.
We help you keep it.
Whether you want to pay fewer taxes, stress less about the CRA or get your books in order, our friendly tax and accounting experts will handle all of that for you. Any time.
"I've been in business for 9 years, and this is the first time I've been confident in my return."
- Dave B. (Ontario) FBC Member Since 2014