online bookkeeping support - sole proprietorship - corporation - farm - small business
Online bookkeeping support that saves you time and money
Lean or large, up or down - you need to know your numbers. We help farm and small business owners get organized and stay that way, so they can focus on success.
OVER 65 YEARS OF HELPING FARM AND SMALL BUSINESS OWNERS SUCCEED
How we take care of you and your business
 You can't afford to waste time time guessing at your cash flow. Our bookkeeping experts will get you organized and help you spot the bad trends before they bleed you dry.
And the process? It's as easy as FBC.
We learn your business and determine how to best meet your bookkeeping needs. If you like what you hear, we'll get you onboarded and move to the next stage.
Your personal Bookkeeping Specialist connects with you by phone or email. They grab additional info, answer your questions, and then let you get back to work.
Say goodbye to that box of receipts. Say hello to industry-leading software and a user-friendly app. Instantly scan receipts and pull up financials while you're on the go.
After your first month of bookkeeping, we'll connect to review transactions and customize your financial report template. Our support is ongoing, all the way to your fiscal year end.

Ready to take back control of your time and money?
Mobile bookeeping support powered by people
We make bookeeping painless and affordable
You can't protect your bottom line if you don't know what it is. We combine the convenience of an app with the ongoing support of real people to produce accurate financial reports. Scan receipts at the time of purchase or ask us questions about your financials on the go - we provide financial clarity so you can focus on success.
What's included with
FBC Bookkeeping?
When you sign up for FBC Bookkeeping, you will be assigned a dedicated Bookkeeping Specialist. They will give you accurate financial statements so you can spot trends and make better business decisions.
A dedicated bookkeeper who know you, your business and your needs

Monthly business transactions recorded

Simple tools to create invoices and receipts

24/7 Secure Mobile & Desktop app to access online dashboard

Easily view expenses, statements, cash position, GST/HST/PST balances

Monthly trial balance, transaction records

Monthly balance sheet and income statement
Bookkeeping Frequently Asked Questions
8 Ways Bookkeeping Reduces Your Financial Risk
It's easy to blame it on luck or timing, but businesses fail when owners don't have access to the right financial information at the right time. As a result, business mistakes start piling up.
Learn how accurate and timely financial statements prepared by a trusted bookkeeper can help you:
Recognize cash flow issues
Secure necessary credit or loans
Stay on top of payments
... download the free guide today!
Don't let your business become another statistic. Let us help you take back control of your time and money.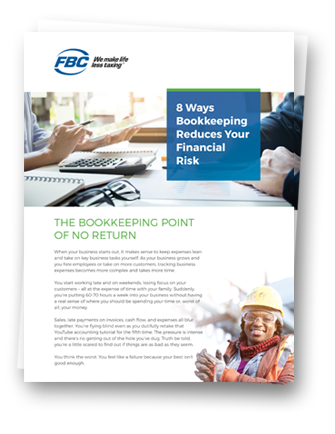 just a click away from everything you need
Simple, straight-forward pricing for monthly bookkeeping
When you choose FBC Bookkeeping, your support will be personalized, unlimited and ongoing. Start now by creating your personal bookkeeping estimate.
Monthly Estimate
Monthly Estimate

Total

:

0
Catch-Up Estimate

Total

:

0
---
"FINALLY, someone is
working for me."
- Ron T. (Ontario) FBC Member Since 2013