FBC Covid-19 Resource Centre
Accounting And Tax Learning Resources - Farm And Small Business
We are always learning to do better,
now you can too
Canada's tax code is complex and ever-changing. Our eBooks are
consistently updated with the latest tips, financial information and
tax-saving strategies that will boost your bottom line and save you money.
All
Contractors & Trades
Farm & Ag
General Tax
Small Business
Transportation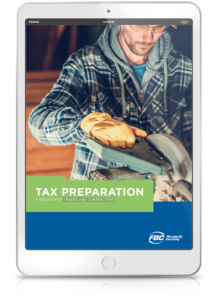 It's tempting to put it off but if there was ever a year to get organized early, this is it. Download your tax preparation toolkit to get organized and save money.