Three Generations of Sugar Bush Farming
After three generations of running a maple sugar bush and custom crop farm, the Palmateer family thought they'd seen it all – then COVID-19 hit.
With no in-person sap season events or annual pancake breakfast weekends to help promote their Palmateer Maple Syrup, they found themselves facing an unprecedented challenge to sell their products.
But you don't make a go as a farming family without building ties to your community or having a solid business plan to weather bad times.
Stephen and Ashley, as the third generation of the Palmateer family, proudly own and operate Palmateer Farms. Midway through the pandemic, they pivoted their business model to include online sales and flat-rate shipping through a new website.
While they are still building awareness and nurturing new online customers, the family remains committed to the same quality, small-batch maple syrup they've produced for over 80 years.
Located in Hastings County, Ontario, nestled in the small village of Tweed, the Palmateer family farm was lucky enough to have sugar bush on the land. For the uninitiated, sugar bush is a group of sugar maple trees growing in the same area and used to produce the sap that is then boiled down to make maple syrup or maple sugar.
The trees were first tapped in the 1940s by Ross Palmateer, using the old fashion spoil and bucket method, which soon became a family legacy.
Ross, known around the farm as "Pa," grew older and eventually his son, Larry, took over the family business in the 1970s. At this point, Larry still used the same wood burner to boil down the sap as Pa did. In fact, it can still be found in the sap house to this day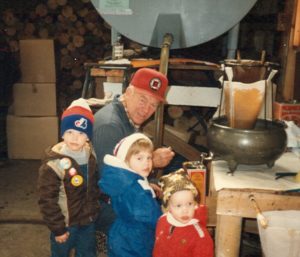 .
Now that Stephen, his wife, Ashley, and their three daughters are at the helm, they are taking the family tradition to a whole new level. Through diversifying their family's product line and sharing their unique story through Facebook and Instagram, they hope to showcase their passion for all things maple to a new online community.
"As a third-generation small business owner, we are proud of our products and our relationships we have with our community and customers," said Stephen. "Without them, we would not be where we are today."
If you don't come from a farming family, it may be hard to understand what drives a person to stay in a job with endless responsibilities and chores. Certainly, there are easier ways to make a living. But for Stephen, it's not just a job, it's a calling.
"Like many farmers, I was born into this generational operation," said Stephen. "I am one of four siblings who chose to carry on our family traditions, and I've worked on the farm for as long as I can remember. It was my passion to work alongside my pa, dad, and uncles."
Thankfully, Stephen's wife and three girls have adopted his love for the farm and, of course, for maple syrup.
"This truly is a family tradition," said Ashley. "We take great pride in our products that we make in small batches."
As with all farming, there is a season for maple syrup. There needs to be enough of a temperature change – generally going from a cool night to a warmer day – to get the sap flowing. Only within a small window, can the trees be tapped for their sap. On the Palmateer farm, they tap from February to April every year.
"Our favourite time of the year is sap season," said Ashley. "We start with maintenance of the bush itself in early February, from clearing brush and taking trees off lines to repairing both lines and spiles."
It takes the operation about one week and 2-6 employees to tap the bush and get it ready for the season. The Palmateers have roughly 5,000 taps to date and are looking to expand the bush further.
Once the sap starts flowing, their focus changes temporarily to the sap house where they make the syrup. The family operation has come a long way from the days of the old wood burner; an essential piece of equipment used today is the reverse osmosis machine.
While reverse osmosis is a process used more commonly for water purification, in the maple industry, its used to rid the sap of excess moisture. Powerful pumps squeeze the sap's water content through porous membranes, leaving behind the sugar and minerals in a more concentrated form of sap.
"Getting the reverse osmosis machine up and rolling is crucial," said Stephen, "In our operation, it removes 70 per cent of the water. This cuts our boiling time down from that of past generations immensely and saves us both fuel costs and time."
Once they get enough concentration, the family begins boiling, bottling, and packaging their products.
"While we enjoy every minute of the process, it's the precious memories made in the sugar bush that we hold close to our hearts," said Ashley.
The inability to share this authentic sugar bush experience with customers or host in-person sap season events remains a real challenge to the Palmateers.
"Our sugarbush has had zero traffic in two years now," said Stephen. "We rely on these events and can't wait to run them again."
Stephen admits that facing the unknown is one of the most difficult aspects of running your own business.
"The hardest thing about being your own boss is the stress and unpredictability of hard times, "he said. "Like every farm, we are also continuously at the mercy of mother nature."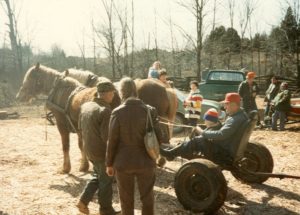 Despite this, there is nothing else he'd rather do. In fact, he's committed to building onto his family's legacy.
"We want to provide sustainability for generations after us," he said. "We're taking care of the land we have now so our children and their children can continue producing quality syrup and provide for their communities as we have been given the opportunity today."
As someone who grew up and continues to work in the family business, Stephen's wealth of knowledge will be invaluable for his children when they inevitably take over.
"If I could go back 20 years ago, I would tell myself to spend more time with friends and family," he said. "It's easy to get caught up in what needs to be done on the farm and lose sight of the most important things in life.
"The land will always be there, but the time with loved ones will not."
The Palmateer family has now spent over 20 years consulting with FBC at their kitchen table. They've talked about everything from quarterly bookkeeping and tax to in-house processes to how make the finest maple syrup money can buy.
"The team at FBC and our rep Matt have provided us with safety and security, knowing that our business is in the hands of someone with agricultural business knowledge," said Stephen. "This partnership allowed our family business to progress and move forward for it to sustain and succeed.
"The guidance we've received along the way is invaluable."
FBC is proud to have earned the trust of the Palmateer family and encourage our readers to shop Canadian by visiting their website https://palmateer.farm/ .  You can purchase everything from maple syrup to "Sugar Shack" scented candles, maple cheese and everything in between.
Follow the Palmateers on social media
Instagram: @palmateermaplesyrup
Facebook: https://www.facebook.com/palmateermaplesyrup
We're Here - Virtually - Anywhere You Need Us
Find out how our team at FBC
can help you like we helped the Palmateers